These homeowners moved into a large home with 5 bedrooms upstairs and a main floor office. The home also featured a full-sized Nanny/In-Law suite with one bedroom, family room, den, large kitchen and bathroom. Amazing! But they had no use for this basement apartment other than have it be a giant kids' playroom! Check out these BEFORE pictures!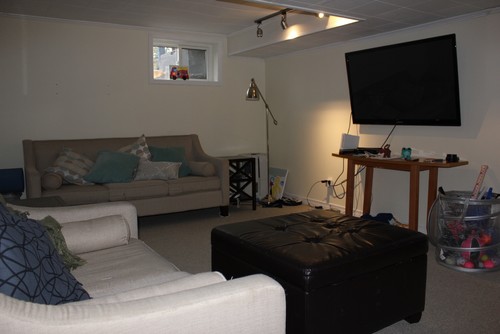 While they focused on decorating the upstairs, the basement was neglected. Such a dark Basement with little overhead lighting. Not to mention, almost all the light bulbs are dead in track lighting and floor lamp.
The homeowners had placed them to face the cable box hook up but their furniture looked out of place and the wrong size for the space. To stay in our budget, we had to keep their existing furniture. The first thing we did was reposition all key furniture pieces.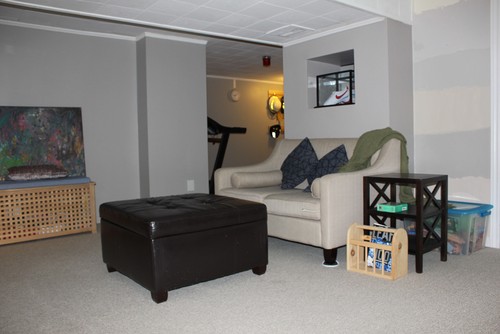 The previous owners had built a large hole into the wall between the living room and bedroom. It's unclear exactly why they did this, but my guess would be it once housed a built-in aquarium or a home inspector forced them. The owners had placed a large movie memorabilia case with a replica of Forest Gump's shoes in it because well, they didn't know what to do with either of these gems!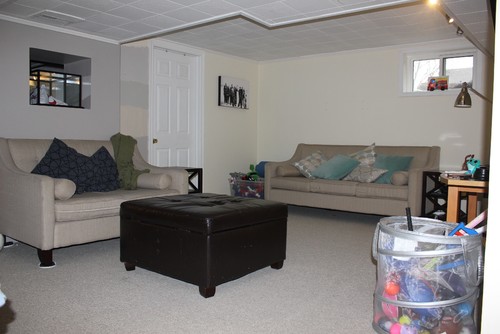 We suggested more lighting and a new paint colour to refresh this drab space. We used one of my favourite paint colours, Benjamin Moore Abalone 2108-60 because it is neutral and light with a griege tone.
Instead of renting new furniture, we worked within the clients tight budget and strategically covered stains on the couch with blankets and rips in ottoman with decorative trays. (Hey, it's a kids' play space, after all!) 
We rearranged pictures, pillows and blankets the client already had in the home to make the room more homey, but removed all family photos to make it less personal. (Prospective buyers don't want to see your family in their new home!)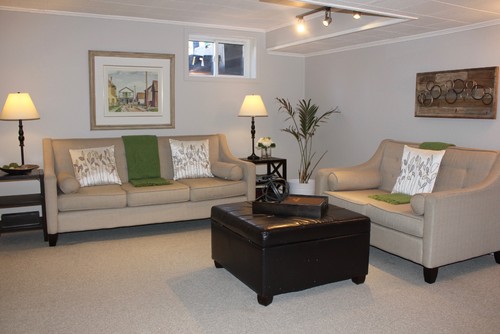 We places a light-weight canvas over the space in the bedroom instead of patching it up. (Fire safety first, people!) and replaced Forest Gump's shoes with a more sophisticated yet neutral piece that filled out the awkward built-in space a bit better.
 I love these Before & After photos of this basement family room because it is such a great example of how important it is to get help from a trained expert. 
What do you think? Would you love it or list it? Leave your comments below!